Hip & knee replacement surgery:
Hip replacement surgery:
Hip replacement surgery is a procedure in which a doctor surgically extracts a painful hip joint with arthritis and replaces it with a synthetic joint often made from metal and plastic components. It is normally done when all other treatment options have failed to provide adequate pain relief. The procedure should relieve a painful hip joint, making walking easier.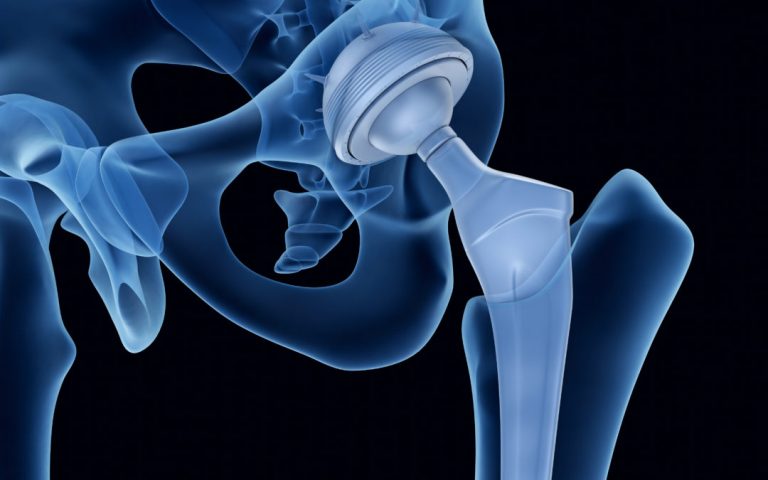 Signs that You May Need a Hip Replacement:
Hip injuries are very painful when they occur. A person may experience the following:
Hip pain while doing daily chores and also while walking, climbing, or bending.

 The inability to move the leg or a leg appears slightly shorter than others.

The foot or ankle feels slight senseless.

Non-surgical treatments fail to provide adequate relief. 
Types of Hip Replacement Surgery:
Total hip replacement (most common): In this surgery, worn-out or damaged sections of your hip are replaced with artificial implants. 
Partial hip replacement: It involves replacing only one side of the hip joint.
Hip resurfacing: Hip resurfacing is most commonly done in younger, active patients.
Knee replacement surgery:
Knee replacement surgery (also known as knee arthroplasty) is performed to help relieve pain and restore function in severely damaged, worn, or diseased knee joints. The surgeon cuts away the affected bone and cartilage during a Knee Replacement Surgery. It is then replaced with an artificial joint, usually made of metal alloys, polymers, and other materials. People having problems or experiencing pain in joints while walking, climbing stairs, and getting in and out of chairs may require knee replacement surgery.  
There are three common reasons for the procedure:
Osteoarthritis: Normal wear and tear may cause this type of knee injury. Mostly, people above 50 years' experience this kind of knee injury, but sometimes younger people may also get affected. 
        Over the course, the cartilage wears down and the bones rub against each other. This causes pain and surgical treatment is required. 
Rheumatoid arthritis: It is an inflammatory disease that mainly attacks the joints. In rheumatoid arthritis (RA) the joints in the knees become inflamed, damaging the joint tissue. It causes soreness and stiffness in the knee joints.  
Post-traumatic arthritis: Severe knee injury cause this type of arthritis. The knee cartilage is severely affected by broken bones or ligament tear and surgery may be required.
Types of knee replacement surgery:
Total knee replacement (TKR): It is the most common type of knee replacement procedure. TKR involves both side's knee joint replacement. 
Partial knee replacement (PKR): Only one side's joint is replaced in Partial Knee Replacement. It usually takes less time than TKR.
Robotic Hip & Knee Replacement Surgery:
Dr. Aashish Arbat provides 3D based robotic Hip & knee Replacement Surgery in Pune. He is involved in the development of 3D Robotics, Artificial Intelligence, Robotic Planning, and the development of the first Physical Robot for Orthopedics in India.
ROBOALIGN is a revolutionary technology that integrates 3D technology & Artificial Intelligence to make Joint replacement more personalized. RoboAlign is a 3D imaging-based total knee instrumentation system. It helps to give accurate 3D Dimensions X, Y, Z axis, and most importantly it gives you the perfect size of the implant before you measure the sizes during the live surgery.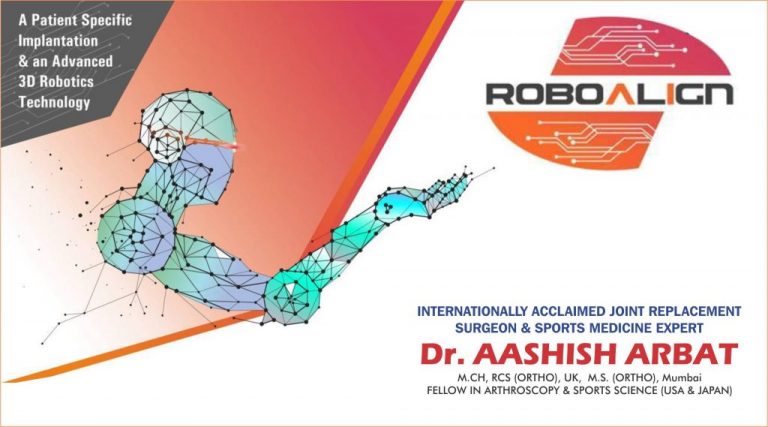 Benefits over conventional methods:
 A complete 3D solution, highly accurate TKR surgery process which overcomes the problems faced by conventional and modern TKR surgeries. Here are a few advantages of 3D AI Robotic Joint replacement:
Stitchless & Pinless Surgery

No general anesthesia required

Reduction of errors in rotational and translational alignment

Improved position accuracy and fit of the new implant

Reduction of complications

Reduction of bone sacrificed to fit the new implant

Reduction of cumulative exposure to x-ray radiation

Shortened hospital stay and operating time

More accurate placement of the implant,

Shorter hospital and recovery times