The blog is dedicated to answering the question… "Is Arthroscopic Knee Surgery Worth It?"… Moreover, also cover the associated topics…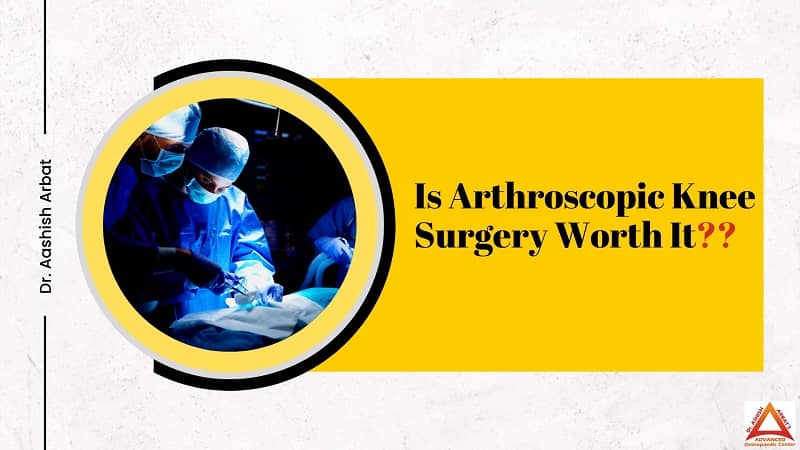 Knee Arthroscopy Surgery
Knee arthroscopy is actually a minimally invasive surgical procedure… used to diagnose and treat a range of knee injuries. In this arthroscopy, a small incision is made and then a long, thin tool is inserted with a camera on the end. This is done with the motive of seeing images of the inside of knee… This actually helps healthcare provider in making a diagnosis of injury.
When is Arthroscopic Knee Surgery Necessary?
Below find, when one need arthroscopic knee surgery…
Swollen or damaged joint lining
Kneecap gets out of position
Small pieces of broken cartilage get accumulated in the knee joint
Knee bone get fracture
Baker's cyst get removed
Anterior Cruciate Ligament (ACL) or Posterior Cruciate Ligament (PCL) get torn or damaged
Now directly coming to the topic… 'Is Arthroscopic Knee Surgery Worth It?''
Is Arthroscopic Knee Surgery Worth It?
A panel of Researchers and experts have concluded the arthroscopic knee surgery not much more beneficial than that of exercise therapy. [Although everyone do not agree with this statement].
Image
The recommendation is for approximately all people with degenerative knee disease.
According to experts,
This recommendation has been made focusing onto the patients' perspective. The impact on the society itself.
Note: The aforementioned recommendation targets those who they feel emphasis more onto the negative side of arthroscopic surgery. Though, it was found… any benefit from knee arthroscopy surgery disappears within a year.
The Pros and Cons of Arthroscopic Knee Surgery
The Benefits of Arthroscopic Knee Surgery
Smaller incisions
Person with knee arthroscopic surgery can get back to work faster
Surgery can be performed as an outpatient
Less scaring
Decreased risk of infection
Surgery minimizes trauma to healthy issue
Less blood loss during surgery
Less postoperative pain
Alike several other surgeries, knee arthroscopy surgery comes with few drawbacks and certain risks…
The Cons of Arthroscopic Knee Surgery Include:
Complications from Anesthesia
Recovery periods typically lasts from two to six weeks
Time off from work following surgery
Unable to drive and the other daily activities
Long-Term Effects of Arthroscopic Knee Surgery
The long-term effects of arthroscopic knee surgery include: infection, nerve damage, blood clots, persistent swelling & stiffness, stroke and heart attack.
How Many Knee Arthroscopy Can You Have?
Not in all cases multiple arthroscopy is needed.
There are rare cases when multiple knee arthroscopy is needed…
Study reveals,
In 59.8% of cases, the symptoms that led to multiple arthroscopy are non-traumatic continuous pain. Further, the other cases that needs to the requirement of multiple arthroscopy include: new trauma or meniscal or anterior cruciate ligament (ACL) tears.
Does Knee Still Hurts After Arthroscopy?
Usually, after knee arthroscopy surgery… people get back to their daily activities more quickly and with less pain. However, in some rare cases, knee pain is experienced after surgery. Some people have been notified experiencing huge struggle during the recovery, much more than expected.
So, yes… often the knee still hurts after arthroscopy.
Below find reasons, why knee still hurts after arthroscopy…
Persistent Swelling
Infection
Inadequate Rehabilitation
Joint Arthritis
Spontaneous Osteonecrosis
Knee Arthroscopy Reviews
Below find, knee arthroscopy reviews or testimonials… from knee patients across the world who went under knee arthroscopy surgery…
""There was an instant relief of pain. I knew as soon as I woke up that my problem was gone. Magic! Thanks so much!""
""I can't believe how quickly I was back to normal! The biggest discomfort after the op was having to wear the bandage!! After 2 days when that came off, I felt back to normal." "
"The surgery has been a revelation. My life has returned to normal. I had no pain at all after the surgery which I found amazing.""
""Brilliant, my knee is back to normal. I could feel the difference from the day after the surgery. Thank you so much.""
Knee Arthroscopy Cost
Usually, the knee arthroscopy cost ranges from Rs. 80,000 to Rs. 1,70,000… relying onto the variety of factors, such as: joint on which surgery is performed, patient's health condition and etc.
Dr. Aashish Arbat – Best Knee Arthroscopy Surgeon in Pune, Maharashtra, India
Dr. Aashish Arbat (MBBS, MS – Orthopaedics, M.Ch – Orthopaedics) an internationally acclaimed joint replacement surgeon, with over a decade of experience of treating 5000+ patients via enhance techniques, is the best knee arthroscopy surgeon in Pune, Maharashtra, India.
Top Orthopedic Doctor in Pune, Dr. Aashish Arbat… is the one who introduced tissue preserving (Subvastus Cruciate Retaining) surgery… leading to patient's quick recovery.
Moreover, being best knee replacement surgeon in Maharashtra, he is the one who introduced Bone Conserving Total Knee Replacement Surgery – Preserving patient's natural wealth.
Most renowned knee replacement doctor in Pune, Dr. Aashish Arbat is the one who do make use of CoCr Tibial base plates… enabling significant reduction in wear & tear rate.
If looking for best knee arthroscopy surgery in Pune, Maharashtra, India, do contact Dr. Aashish Arbat, as he is the best knee arthroscopy surgeon in Pune, Maharashtra, India.