Dr. Aashish Arbat has been referred to as the most renowned for Robotic Joint Replacement Surgery in Pune… Read the blog to know how and why…!!
In order to provide joint problems patients with the most enhanced and comprehensive treatment… helping them to bring them back to their respective normal, active & pain-free lives… robotic surgery is a revolutionary method…
While technology is today making things simpler in every turf… it would be not wrong to say that healthcare is yet one of the most positively affected areas amongst all.
Dr. Aashish Arbat (MBBS, MS , MCh , RCS) is the very first 3D AI-based Robotic Joint Replacement Surgeon in Western India. Now this makes him definitely the best robotic joint replacement surgeon in Pune, Maharashtra. Top Robotic Joint Replacement Surgeon in Mumbai (since he practices at hospital present in Mumbai also)
Nonetheless, before digging into… how Dr. Aashish Arbat is the best for robotic joint replacement surgery in Pune, Maharashtra, India… its important for us to provide you with brief details on what Robotic joint replacement surgery (aka Robotic Assisted Joint Replacement Surgery) is…? What are its types…? How it is different from traditional joint replacement surgery…? Its advantages and other things associated with it…
So, moving on…
What is Robotic Joint Replacement Surgery?
Quite similar to traditional joint replacement surgery… robotic joint replacement surgery is a procedure in which damaged tissue in the knee is removed and is replaced with an artificial joint. However, here the difference is that in robotic surgery… this whole procedure is done with assistance from a robotic arm or handheld robotic device (relying onto the robotic system used for surgery).
Robotic-assisted joint replacement surgeries enables greater precision… leading to shorter recovery times and enhanced results.
Nonetheless, in more complex cases… this robotic joint replacement surgery provide a better balance in the soft tissues around knee. Moreover, it better aligns the joint.
Types of Robotic Joint Replacement Surgery
Robotic-Assisted joint or knee replacement surgery is mainly of two types…
The Navio Surgical System
Mako Robotic-Assisted Knee Surgery
Each of these surgery types help orthopaedic surgeon create an ideal surgical plan.
Both these robotic surgery types are used to achieve same result… however, they both differ while planning and performing knee replacement.
The Navio and Mako systems are used in both partial knee replacement and total knee replacement surgeries.
These options are discussed by surgeons… and then it is decided you are candidate for which robotic knee replacement surgery.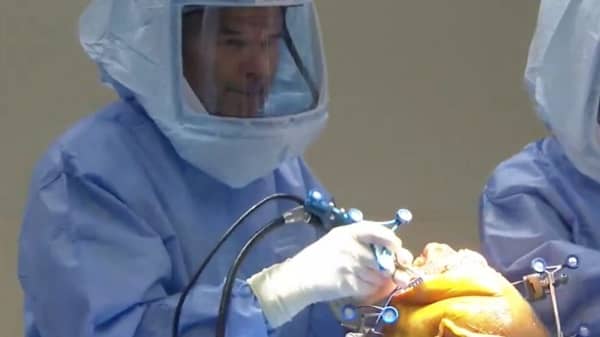 Despite of the conventional knee replacement ways… in Navio system… plain X-rays, rod and cutting guides are not placed onto the bone surfaces to assure appropriate alignment while planning procedure… Instead measurement is taken of the knee, hip and ankle. Further then, leg is moved via a range of motion… enabling the system to see how leg and knee joint moves.
All together… these measurements produce a 3D-image, specific to patient's knee.
Now with this image… a detailed surgical plan is created and optimal implant type and placement is selected.
The Navio Robotic knee replacement surgery complements surgeon's expertise… while evaluating cuts and guiding implant placement and joint alignment.
Mako Robot
The Mako Robot differs from Navio System in two distinct ways…
It uses specific scans of patient's knee before surgery… This is done to get precise measurements of knee.
It's a distinct approach… helping surgeon follow patient's surgical plan.
Before implementing Mako knee replacement surgery… patients are provided with specialized CAT scans… that do creates a 3-D image of knee joint, bone structure, and surrounding tissues. This detailed picture or image help surgeon plan every step of the surgery thoroughly.
Who is For Robotic Knee Replacement Surgery?
Those who are candidate for traditional knee replacement surgery are mostly the candidates for robotic-assisted knee replacement surgery also.
As per specialists,
Robotic knee replacement surgery are ideal for those who are having complex knee joint disease. This mainly includes patients having…
Complex Degeneration
Deformities in femur after injury
Hardware from previous surgeries
https://drashisharbat.wixsite.com/blog/post/robotic-joint-replacement-surgery-in-pune
Advantages and Disadvantages of Robotic Knee Replacement Surgery
There are many advantages of Robotic-Assisted knee replacement surgery. Nonetheless, some disadvantages have also been encountered in some cases. So, here briefing both of them…
Advantages of Robotic Knee Replacement Surgery
Small Incisions: Surgery via smaller incisions have been referred as one of the main advantages of robotic knee replacement surgery.
Greater Precision: The arm of the robot used in robotic surgery are always more accurate than that of human hand. Moreover, motion range is also much greater. The arms rotate instruments in tight spaces in ways which aren't otherwise possible.
Enhance Visualization: A highly sophisticated camera used… provide magnified, high-definition views of the surgical area. Further, it also comprises 3D capabilities to image which are superior to the naked eye.
Ability to Do Surgery Inside the Body: The small instruments used in robotic knee replacement surgery enables surgery to perform operation steps inside the body… However,… traditionally, they would have had to make a much larger incision to implement that part of the procedure outside body.
Disadvantages of Robotic Knee Replacement Surgery
Only available at centers… which can afford the technology and comprise specially trained surgeons.
Risk of nerve damage and compression.
Surgery may need to convert to an open procedure with larger incisions… if in case there are complications. These basically include scar tissue from previous surgeries which make it difficult for robotic technology to accomplish the procedure.
Robotic Knee Replacement Surgery Recovery
Robotic-Assisted knee surgery recovery is much shorter.
Relying onto the procedure type and overall health… one may:
Get out of bed shortly after anesthesia wears off.
Eat within few hours of surgery
Go to the home the same day or next day.
Robotic Knee Replacement Cost
Robotic knee replacement surgeries are bit expensive than that of traditional knee replacement surgeries.
Nonetheless, with the healthcare facilities growing in India… robotic knee replacement surgery cost in India is still quite affordable… combined with the latest medical amenities.
The outcomes or results of the robotic surgeries are without any doubt highly satisfactory.
So, same is the case here in Pune, Mumbai, Maharashtra also.
Robotic knee surgery cost in Pune is bit higher than that of traditional surgeries. However, always provides with very outcomes. Thus, definitely worth it.
Dr. Aashish Arbat – Best Robotic Joint Replacement Surgeon in Pune, Maharashtra
Dr. Aashish Arbat (MBBS, MS , MCh , RCS) is an internationally acclaimed joint replacement surgeon… having experience of persistent work towards treating 5000+ patients via enhanced techniques.
Dr. Arbat is the very first 3D AI-based Robotic Joint Replacement Surgeon in Western India… This ultimately makes him the best surgeon for robotic knee replacement surgery in Pune, Maharashtra, India. Best to go for top robotic knee replacement in India. Robotic Knee Replacement in Pune. Many refers him as the best Robotic Joint Replacement Surgeon in India.
In the field of knee replacement surgery… the doctor has introduced numerous enhance techniques. He is the one who introduced tissue preserving (Subvastus Cruciate Retaining) Surgery… leading to a patient's early recovery. Moreover, he introduced Bone Conserving Total Knee Replacement Surgery… preserving patient's natural wealth.
He also makes usage of CoCr Tibial base plates… enabling significant reduction in wear & Tear rates.
All these things makes Dr. Aashish Arbat the best knee replacement surgeon in Pune. Best Robotic Joint Replacement Surgery in Pune.
Further, since… the doctor also visits the clinic situated in Mumbai… so has been referred as  the best for robotic knee replacement Mumbai.